BarcelonaSail and Corporate Responsibility
Corporate Responsibility encourages companies to take responsibility for the impact of their activities on employees, and the environment. Not only are we very careful reducing our own footprint we also actively campaigns for a less plastic at sea though events.
Our actions to minimize our impact
Here's what we are doing to ensure that BarcelonaSail's services are safe, and minimize our impact on the sea.
Electric engine powered by the sun
Offering vegan food (vegan food has a smaller energy footprint than non-plantbased foods)
Minimize all plastic on board
Teach our skippers about sea life and how to preserve it to inform customers
Food delivery by bike
Our Awareness Events
BarcelonaSail has created team building events, at sea to create awareness, we promote plastic pollution awareness at schools, corporations though presentations and games. Here is the list of events we promote in 2021:
Plastic Awareness Regatta a sailing race
Online 30-day plastic challenge
Plastic Awareness Presentations and games school and at work
BarcelonaSails's Mission Statement
Offering exhilarating and relaxing sail tours,  that are inspiring,  innovative and environmentally friendly.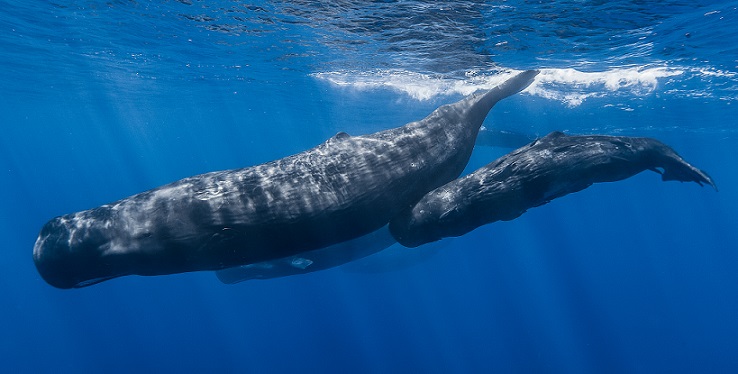 Did you know that whales up to 22 meter live in the Mediterranean?
Why Corporate Responsibility
As a young sailor, I enjoyed the sea, the fresh air, the infinity of the ocean, and the beauty of the sea life below me. Over the years I sighted less mammals, fish, and turtles and found more plastic. Therefore I decided to create a sail tour company with values that reflect those of the sailors and surfers who realize that the sea is our source of life and needs to be treated carefully.
For us at BarcelonaSail, a love for the sea demands participation in the fight to save it, and to help reverse the steep decline in the overall environmental health of our planet. We donate our time organizing "plastic fishing" events to create awareness, and in 2018 we plan to do away with all plastic on board, to reverse the tide.
We know that our business activity – from lighting the office to cleaning the boats – creates pollution as a by-product. So, we work steadily to reduce those harms. We use electric motors in our sail boats, interview our suppliers on the environmental footprint of their products, our food is locally grown and packaged in recyclable carton and delivered by bike.
Staying true to our core values helps and inspires us to run and work for BarcelonaSail. Our focus on delivering the best service possible has brought us great success. Our 2018 barcelonasails promises reflect this drive and we strive to be the worlds first zero impact company by 2022.